Best TOEFL Test Prep Courses in Barcelona (Spain)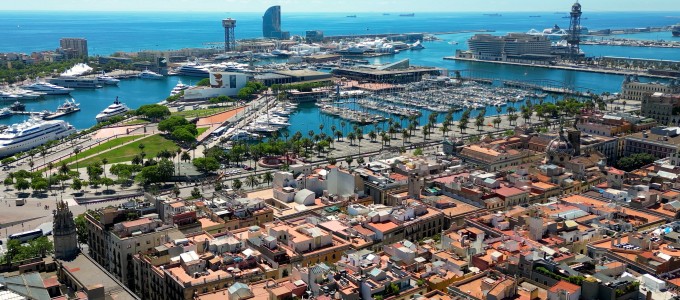 For students seeking a study guide for the TOEFL, Manhattan Review has the perfect program to help you master this exam. We have analyzed and studied the Test of English as a Foreign Language (TOEFL) in order to better prepare our students for comprehending the material and obtaining the high score needed to take their education to the next level. In Barcelona, we are pleased to offer a variety of programs to help you succeed on the TOEFL, including group-style preparation classes, private tutoring, and interactive online courses. All of these learning programs use Manhattan Review's proven and industry-leading test prep methods. Contact us today to learn more about which program is right for you. You will love working with our knowledgeable and experienced tutors, who are dedicated to ensuring you are prepared and ready to get an impressive score on the TOEFL. If you are seeking to demonstrate your proficiency of the English language, we have the perfect study program for you. We have retained the services of the most sought-after tutors and instructors in Barcelona, and we have created a unique exam preparation method that has helped clients gain acceptance into the top universities and colleges in the United States, Canada, the United Kingdom, and elsewhere. Let our top-tier tutors assist you the way they have assisted countless other prospective college students.
Manhattan Review has offered world-class test preparation materials since 1999, pairing students with the most accomplished instructors who are well-versed in the complexities of test taking and are prepared to guide you to obtaining your highest score. Our friendly and experienced tutors will break down the TOEFL for you, explaining difficult test concepts and offering tried-and-true tips and strategies certain to boost your score. We are proud to offer Barcelona's most results-driven, flexible, and international student-friendly resource for TOEFL preparation. Whether you enjoy learning in a group with other students, prefer the customization of working one-on-one with a private tutor, or need the flexibility of online interactive courses, we have a program for you.
If your goal is to attend a prestigious college or university, you will want all the support available to help you achieve your goal. Graduating from an institution of higher learning that has instant name recognizability has the potential to impact you for years to come, opening doors to important job opportunities and offering lifelong personal connections. The TOEFL is a standardized test designed to measure the English language abilities of non-native speakers seeking to enroll in an English-speaking university. This test is accepted worldwide by over 11,000 universities in more than 190 countries. The TOEFL consists of a group of tests, the most popular of which are the TOEFL iBT and the TOEFL Essentials. The TOEFL iBT requires 90 minutes to complete, whereas the TOEFL Essentials is more rigorous and requires three hours to complete. The TOEFL is composed of four sections—reading, listening, speaking, and writing. A score on the iBT version of the test will fall in the range of 0 to 120, while a score on the Essentials version of the test will be from 0 to 12. Many universities require proof of English language proficiency, and the most selective universities expect to see a TOEFL score over 100. While every college varies in its specific requirements, the importance of a high TOEFL score cannot be overstated. In order to be competitive for the highest-ranking academic programs, it is imperative to demonstrate a strong performance on the TOEFL.
For those who are not native English speakers, the TOEFL is an important part of applying to an English-speaking undergraduate program, and Manhattan Review offers test preparation carefully designed to help you perform with confidence on exam day. Our courses are offered in-person, as well as online, and our instructors teach at varying times to ensure there is always a program available whenever it is most convenient for you. Our students consistently obtain the highest TOEFL scores and are regularly admitted to the finest English-speaking colleges and universities around the world, including Harvard, CalTech, MIT, Johns Hopkins University, Yale, Cambridge, Columbia University, Dartmouth, Oxford, the University of California at Berkeley, Stanford, the University of North Carolina at Chapel Hill, Cornell, Emory University, the University of Toronto, the University of Melbourne, Princeton, the University of Chicago, and elsewhere.
Here at Manhattan Review, we have strategically created TOEFL prep courses for students seeking the highest score possible on this exam. If you want to be accepted to one of the world's leading undergraduate programs, make your application stand out with an impressive score that will immediately set you apart from other applicants. We understand the importance of gaining admission to a respected and established college, and our comprehensive study guides are unparalleled in the test preparation industry. We are pleased to offer our services to students in Barcelona, ensuring you have mastered the necessary material and are prepared on test day.

She is great! She is able to involve all the participants. She is clear, and she always keeps the attention of the class.
- Matteo (This student took our Columbia Business School Communication and Culture boot camp.)
Barcelona
Phone: +34-932-201-721

Primary Course Venue:

Hotel 1898
La Rambla, 109
08002 Barcelona
Spain

NOTE: We do NOT typically have staff at the venue, so email us before visiting the venue.
Meet a Barcelona TOEFL Tutor: Liza M.
Liza was born in Madrid but moved to Barcelona as a teen. While she grew up loving her home country, after visiting family in the United States, she began to dream of attending an American university. While she was fortunate to be exposed to English at a young age, Liza knew she would need to demonstrate her mastery of this language in order to attend a prestigious English-speaking undergraduate program. Liza enrolled in a TOEFL prep course to ensure she understood the nuances of the test and to learn strategies to help her perform to her potential. She enjoyed interacting with others in her classroom-style group class and appreciated how supportive and knowledgeable her instructor was. "On test day, I was so calm, because I knew what to expect," Liza recalls. "There were no surprises, and I was easily able to apply the skills I learned in my prep program."
Liza obtained a TOEFL score that demonstrated her impressive grasp of the English language, and she was admitted to her dream school, Yale University, where she majored in political science. Liza returned to Barcelona after graduation and while she is pursuing a master's degree, she is happy to offer students the support she so appreciated. "I wouldn't be where I am without having completed such a high-quality prep course, and I want other students to know they can achieve the same success I did," she explains. Liza loves working with students, and she expertly breaks down concepts for group programs while offering numerous hands-on activities and opportunities for collaborative interaction to strength the skills needed to excel on the TOEFL. Liza is known for her enthusiasm and contagious positive energy, and when she isn't helping students master test-taking skills, she enjoys singing in a local choir, painting the incredible Barcelona sunsets, and laughing with friends over potlucks.