Best IELTS Test Prep Courses in Barcelona (Spain)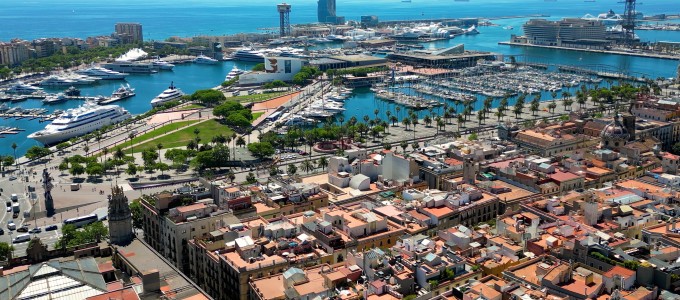 Barcelona students required to take any of the International English Language Testing System (IELTS) assessments can enhance their test scores and language skills with Manhattan Review's comprehensive IELTS services. We are pleased to offer a variety of programs to help you succeed on the IELTS, including group classes, private tutoring, and online interactive courses. All of our varied learning programs use Manhattan Review's effective, industry-leading test prep methods. Contact us today to find out more about which service is right for you. You will love working with our experienced and knowledgeable instructors who are dedicated to helping you prepare to obtain an impressive score on the IELTS. If you are seeking to demonstrate your proficiency of the English language, we have the perfect program for you. Our tutors are world-class instructors, and we have worked with these sought-after professionals to create a specialized exam preparation method that has helped clients gain admission to the English-speaking top colleges and universities around the world, including in the United States, the United Kingdom, Canada, Australia, and elsewhere. Let our outstanding tutors help you the way they have helped countless other prospective university students.
Since 1999, Manhattan Review has offered unparalleled test preparation materials, and we pair students with the most accomplished tutors who are well-versed in test-taking techniques and strategies, prepared to guide you to your highest IELTS score. Our friendly and skilled instructors will break down the IELTS for you, simplifying complicated test concepts and offering state-of-the-art strategies certain to boost your test score. We are proud to offer Barcelona's most flexible, results-driven, and international student-friendly resource for IELTS preparation. Whether you prefer working in a group, learning one-on-one with a private tutor, or need the flexibility of online courses, we have a program guaranteed to suit your needs.
If you plan to attend a prestigious college or university, you will want all the support available to help you transform your dream into an achievable goal. Graduating from a college or university that has instant name recognizability can impact you for years after graduation, opening doors to important employment opportunities and offering lifelong personal connections. The IELTS is one of two major exams used by universities in the English-speaking world to assess English language competency (the other exam is the Test of English as a Foreign Language, or TOEFL). The IELTS is a British examination, and it is therefore favored by many universities in the United Kingdom. The TOEFL is an American test, and many U.S. colleges favor it over the IELTS. A number of postsecondary institutions in both countries, however, will accept either the IELTS or the TOEFL, and we advise all of our test prep clients to verify the English requirements of their preferred undergraduate or graduate program. If you have a choice between the IELTS and the TOEFL, the simple solution is to try practice versions of both tests, favoring whichever one is easier for you. There are some clear differences between the two tests. Speaking skills, for example, are evaluated by audio recordings on the TOEFL and by in-person interviews on the IELTS.
The IELTS is graded on a scale of 1 to 9, with higher scores reflecting a better understanding of the English language and a stronger ability to communicate effectively in this language. Schools such as Harvard, Stanford, MIT, and Caltech require a minimum IELTS score of 7 in order to obtain admission to undergrade programs, although incoming students often have scores higher than this. Most colleges and universities in the United Kingdom and the United States suggest an IELTS score of 6 to 7 in order to be considered competitive for admission.
Regardless of where you ultimately plan to attend college, Manhattan Review has you covered with a full range of IELTS prep services in Barcelona. Our courses are offered in-person and online, and our instructors teach at various times to ensure there is a program available when it is most convenient for you. Our students consistently obtain admission into the world's leading undergraduate and graduate programs, including Yale, Harvard, University College London, the London School of Economics, CalTech, MIT, Johns Hopkins University, the University of Chicago, the University of Pennsylvania, Stanford, Cornell, Columbia University, Oxford, the University of California at Berkeley, the University of Southern California, the University of Toronto, Princeton, and elsewhere.
Unlike other test preparation companies, most of the clients who work with Manhattan Review are not native English speakers, and we therefore have more experience facilitating international student success on English and American standardized tests than any other company. We are a global company dedicated to teaching students from all over the world and helping them unlock their potential in order to achieve their highest levels of success. We have strategically created IELTS prep courses for students seeking to obtain the best possible score on this exam. If you wish to be accepted to one of the leading universities or colleges in the world, make your application stand out with an impressive IELTS score that will immediately set you apart from other international applicants. We understand the importance of gaining admission to a respected academic program, and our industry-leading study guides are the best in the business. We are happy to offer our services to students in Barcelona, ensuring you have the necessary support to master the most challenging material and excel on the IELTS.
Barcelona
Phone: +34-932-201-721

Primary Course Venue:

Hotel 1898
La Rambla, 109
08002 Barcelona
Spain

NOTE: We do NOT typically have staff at the venue, so email us before visiting the venue.
Meet a Barcelona IELTS Tutor: Jordan
Jordan, who is originally from Quito, Ecuador, has been an IELTS tutor for Manhattan Review in Barcelona for over five years. Before his relocation to Barcelona, he taught IELTS preparation and English as a second language to international students in the United States for seven years. "I remember the difficulties of learning English," he recalls, "and not just learning it, but really understanding it. I want to help others do the same, because it's imperative to have a grasp of English in today's competitive business market." Jordan's teaching methods regularly result in impressive score gains among the students he coaches, and those he works with frequently praise his thoroughness as an instructor, as well as his patience.
Jordan's academic credentials include a bachelor's degree from the University of Southern California, a master's degree in education from Johns Hopkins University, and a TESOL certification from the University of California at San Diego. He is a single father of two children, and he is excited to raise them in a city as diverse and cosmopolitan as Barcelona. When he isn't helping prospective university students excel on the IELTS, he can be found coaching his daughter's basketball team and cheering his son on during competitive swim meets.
As Seen In