GRE private tutoring in Madrid (Spain)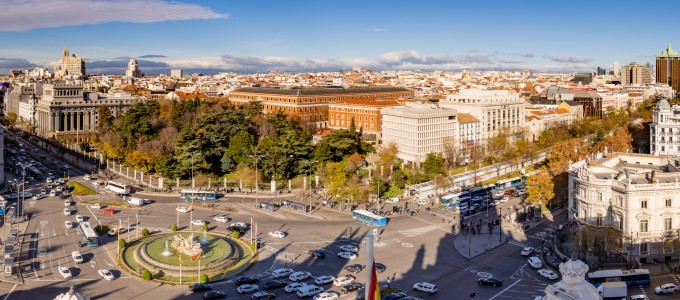 Every year, thousands of students apply for the top graduate programs all around the world including right here in Madrid. As part of that process, they must take the Graduate Record Examination, or GRE, and earn a high score. Implemented by graduate schools to help them determine applicants with the most academic aptitude and potentiality, the GRE assesses verbal and quantitative reasoning; critical thinking; and analytical writing ability, skills necessary for success at the graduate level. As a result, it is critical that prospective graduate students adequately prepare for the GRE, which for a growing number of serious students this means utilizing the elite private tutors at Manhattan Review.
Since 1999, Manhattan Review has been at the forefront of GRE test preparation services, providing prospective graduate students in Madrid, like you, with the requisite skills to achieve both their GRE testing goals as well as academic and professional success after. Unlike with any other GRE test prep program, our boutique program gives students the unprecedented opportunity to achieve the necessary foundation needed to achieve their desired GRE goals by customizing their own learning plan. With their own learning plan, one that considers their learning style and needs, each student is able to either enroll in a selection of interactive online courses or participate in one-on-one sessions with an elite private tutor. In addition, each participant is given access to our online catalog of supplemental learning materials including the GRE practice tests, which are designed to give our participants an advantage of familiarity with the GRE over their peers on test day.
Throughout Greater Madrid, Manhattan Review has garnered a reputation for working with the best and brightest that Madrid has to offer. As a result, all of the top graduate programs in Madrid such as National Distance Education University, Complutense University of Madrid, Technical University of Madrid, Autonomous University of Madrid, Charles III University of Madrid, King Juan Carlos University, Comillas Pontifical University, European University of Madrid, Pontifical University of Salamanca-Madrid Campus, Saint Louis University Madrid Campus, San Pablo CEU University, IE Business School, and EAE Business School have all supported Manhattan Review and our students consistently over the years. The same is true of the top employers in Madrid as well, which is demonstrated by their commitment to hiring applicants with an affiliation with Manhattan Review over other prospective graduate students. With the endorsement of both the academic and business communities, Manhattan Review is without a doubt the best and only option for students looking to achieve success in Madrid, starting with earning a high score on the GRE.
GRE Private Tutoring
Hours package 12 to 48 hours, Personalized 1-on-1 Tutoring, In Person or Live Online
GRE Private Course
12 hours in total, Personalized 1-on-1 Course, In Person or Live Online

I wanted to thank you for teaching my class and being such a dedicated instructor. When I first started studying for the GRE I was doing it from complete scratch as I had not done this type of math in many years. I was scoring in the low 300's, and was having trouble with some of the quick math necessary to do well on the test. Our class helped me figure out how to break down problems into commonly found concepts and to quickly do the computation to answer them (by, for example, factoring). I took the GRE this past Friday and scored a 720 in math -- much higher than I had originally hoped for when I started studying. I know your going the extra mile to help, both in tutoring and in class, really made a difference to my score. Thanks again!
- Puja (This student took out GRE Tutoring)
Madrid
Phone: +34-911-876-504

Primary Course Venue:

Sheraton Madrid
Calle Alfredo Marquerie 43
28034 Madrid
Spain

NOTE: We do NOT typically have staff at the venue, so email us before visiting the venue.
Meet a Madrid GRE Tutor: Piers R.
After completing one of the most respected undergraduate art programs in America, Piers decided to continue his education by enrolling in a graduate program that would afford him the opportunity to study abroad, particularly in Madrid. Once in Madrid, Piers was inundated with professional opportunities in his field, one of which he decided to actually pursue upon graduation. Since then, Piers has remained a transplant in the Spanish capital, where he has forged an exciting career in art, working for one of the most celebrated museums in all of Madrid, the Reina Sofia Museum, as well as selling his own art at local galleries. Over the years, Piers has participated in lectures, which is where he developed a strong interest in working with up and coming talent in his field. Piers found an opportunity to continue his newfound passion at Manhattan Review.
As one of our exceptional private tutors at Manhattan Review, Piers plays an integral role in helping us to deliver industry-leading GRE test prep consultant services to prospective graduate students. As one of the more eccentric tutors we have, Piers' teaching strategies are unlike any other and yields the most successful results in our GRE test prep program. Through the use of humor and what he calls "blind questioning," Piers has the ability to transform even the most insecure student into a confident GRE superstar. Contact Manhattan Review today so that Piers can turn you into a GRE superstar as well, putting you well on the path to achieving academic and professional success in Madrid.