ACT Private Tutoring in Barcelona (Spain)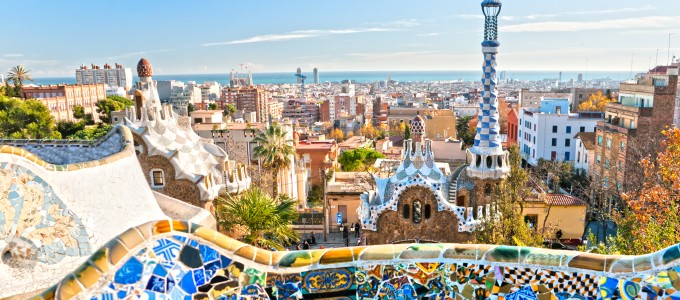 While many students are easily able to learn successfully in large groups, the classroom style of learning does not work for everyone. Certain students know they learn and retain information best through direct, one-on-one engagement and the personalized attention that is only available through working with a private tutor. If you know individualized attention and feedback are necessary for your academic success, we encourage you to contact us to see about connecting with the right ACT tutor for you. Our Barcelona tutors are highly skilled and eager to work with you. Every student who partners with Manhattan Review receives access to our cutting-edge and industry-leading resources, each one carefully and thoughtfully designed to produce high scores on the ACT. By working with us, you ensure you have access to the most effective standardized test preparation courses in and around Barcelona. Those students who complete our preparatory programs consistently obtain acceptance to the most prestigious and well-known colleges and universities in the United States, the United Kingdom, Europe, and elsewhere around the world.
Manhattan Review has been the industry leader in ACT preparation since 1999, and we are pleased to offer the services of knowledgeable and experienced tutors in the Barcelona area. For those students desiring a customized study program, we will pair you with the perfect tutor for your specific examination needs. Studying and working one-on-one with a skilled tutor who knows the details of the ACT can accelerate your learning and help you understand and master new test-taking strategies and techniques, as well as boost your confidence in your own test-taking abilities. Our private tutoring programs are intentionally and carefully crafted for each individual, taking your unique needs, strengths, and areas of growth into consideration when creating a course just for you.
One of the most effective and efficient ways to take your ACT preparation to the next level is by working with a private tutor, and we are experts at pairing each student with just the right instructor. Our tutors are world-class instructors, familiar with the intricacies of the ACT, as well as skilled at sharing their knowledge of how to perform exceptionally well on this exam. We have retained the services of the brightest tutors with strong academic backgrounds who are dedicated to and passionate about helping future university students secure admission to the college of their dreams. No two students learn in the exact same way, so rather than trying to change how you learn, spend your time working with someone who supports your learning every step of the way. In your private tutoring sessions, your tutor will work closely to understand your learning style, improving upon the strengths you already possess while also helping you identify and overcome any areas of weakness that might negative impact your ACT performance. Our tutors are knowledgeable and personable, and they know how to help you master our unique syllabus, allowing you to prepare to take the ACT with confidence.
One of the benefits of private tutoring is that study sessions can be scheduled at times that are convenient for you, whether you prefer afternoons, evenings, or weekends. Here at Manhattan Review, we work with a wide variety of clients, and we understand you have obligations competing for your time and attention. Working with a private tutor on your schedule makes it easy to focus when you're at your best, ensuring you are learning and retaining the necessary information to obtain a top score on the ACT.
Barcelona students know the importance of attending an internationally-renown college or university. There are many more applications received than there are available spots for incoming freshmen, and you must make your application stand out in a way that will differentiate you from other applicants. It is not enough to simply attend any college these days, as the companies seeking to hire college graduates are more selective and discerning than ever. Especially in a dynamic and cosmopolitan city like Barcelona, companies want to hire the best and brightest employees who attended a prestigious college or university whose name sparks instant recognition. In order to obtain the type of employment you want for yourself and your future, you need to consider what will make you most desirable in a competitive job market. Graduating from a respected institution of higher learning will always make a positive and favorable impression on potential employers. Our private tutors are here to assist you, providing everything you need to secure a top score in the highest percentiles on the ACT.
Whether your plans involve attending a university in Barcelona or relocating elsewhere to pursue learning, make the most of the best preparation programs available today and contact Manhattan Review. We are excited to help you obtain the ACT score you need to attend the college of your dreams, and we are committed to partnering with you across all aspects of test preparation. Contact us today to learn more about our private tutoring options and courses to decide which one is right for you. Together, we can create the tutoring program that best fits you and your test preparation needs, setting you up for ACT success.
ACT Private Tutoring
Hours package 12 to 48 hours, Personalized 1-on-1 Tutoring, In Person or Live Online
ACT Private Course
12 hours in total, Personalized 1-on-1 Course, In Person or Live Online
Barcelona
Phone: +34-932-201-721

Primary Course Venue:

Hotel 1898
La Rambla, 109
08002 Barcelona
Spain

NOTE: We do NOT typically have staff at the venue, so email us before visiting the venue.
Meet a Barcelona ACT Tutor: Blake
Ever since he can remember, Blake has loved to write. "From the time I could hold a pencil," he says, "I was creating my own little stories, even though my spelling was atrocious." Over the years, Blake continued to write, crafting short stories of fiction he occasionally shared with his brother, who encouraged him to submit them to writing competitions. No one was more surprised than Blake when he learned he'd won a prestigious young author award and was invited to read his short story at a gala attended by established authors, agents, and editors. Blake drew inspiration from what he knew, writing about growing up in the Northeastern United States and feeling different from his peers. He knew from an early age he wanted to study English and literature, and he spent a significant amount of time preparing to apply to college, including completing group prep courses and participating in private tutoring sessions. Blake performed so well on the ACT that he was offered admission to numerous prestigious universities, but he chose to attend Stanford University, giving him the opportunity to move across the country, offering him new perspectives, as well as new things to write about.
While Blake continues to write and share his stories in anthologies and elsewhere, after graduation he accepted a position with a respected publishing house, where he works as an acquisition editor, interacting with writers from all around the world. Blake knows the importance of strong English, reading, and writing skills, and he is proud to offer support as a private tutor to students looking to strengthen their skills prior to taking the ACT.